HTD & Gilmer Pump Pulleys
Peterson Fluid Systems pump pulleys are CNC machined from billet aluminum and then hard coat anodized for durability. Available in a wide range of sizes for most applications.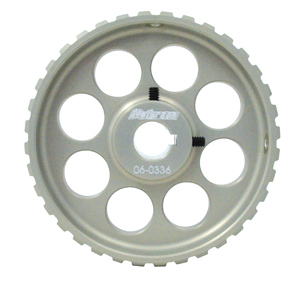 Lightweight Oil Pump Pulleys
5/8" Bore, 3/16" Keyway
These lightweight pulleys feature less rotating mass to free up horsepower and lower strain on the engine. These feature the same CNC precision and rugged construction as the rest of our popular drive line.
Gilmer Pulleys
1.020" Wide
06-0324 24 tooth
06-0328 28 tooth
06-0332 32 tooth
06-0336 36 tooth

1.25" Wide
06-0328 WC 28 tooth 1.25" wide
HTD Pulleys
1.020" Wide
06-1332 32 Tooth
06-1333 33 Tooth
06-1334 34 Tooth
06-1335 35 Tooth
06-1336 36 Tooth
06-1337 37 Tooth
06-1338 38 Tooth
06-1339 39 Tooth
06-1340 40 Tooth
06-1344 44 Tooth
06-1349 49 Tooth

1.25" Wide
06-1333W 33 Tooth
06-1336W 36 Tooth
06-1338W 38 Tooth
06-1339W 39 Tooth
06-1340W 40 Tooth
Pulley Accessories
05-0396 Retaining bolt. 1/4-20 x 3/4
05-0397 Washer for pulley retention. 1/4 x 3/4 x .080
05-0398 Set Screws - 10 pack for pulleys.10-24 x 3/8
05-0399 Key for pump pulleys. 3/16 x 1.500